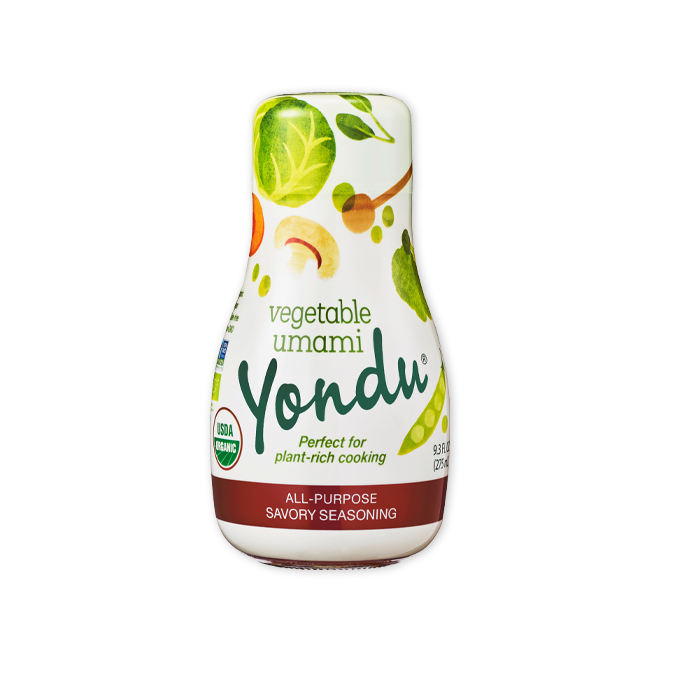 Yondu Vegetable Umami, Organic
An all-natural seasoning sauce made with umami-rich organic vegetables.
Buy Options
Package Size
150ml
275ml
830ml
Product Info
Product
Features
1

Yondu Vegetable Umami is a cooking sauce that adds savory flavor to all dishes without overpowering.

2

A great plant-based alternative for bouillon, concentrated stocks, fish sauce or dashi.

3

Thanks to its clear color and versatile liquid format, it can be added to a wide variety of recipes at any stage of the cooking process.

4

Use Yondu Vegetable Umami for vegetables or any other healthy dishes that need an umami boost.
Ingredients
Organic Soybean Essence (Organic soybean, Water, Salt), Vegetable Stock (Onion, White Radish, Leek, Cabbage, Carrot, Shiitake, Ginger, Garlic), Yeast Extract
Allergy Info. (FDA REGAULATIONS ONLY)
soybeans
Expiration Date
24 months
Nutrition Info
Amount Per Serving
Calories 0 (Calories from Fat 0)
Total Fat
0g (0%), Saturated Fat 0g (0%)/ Trans Fat (0g, 0mg (0%))
Total Carbohydrate
0g (0%) / Dietary Fiber 0g (0%) / Sugars 0g