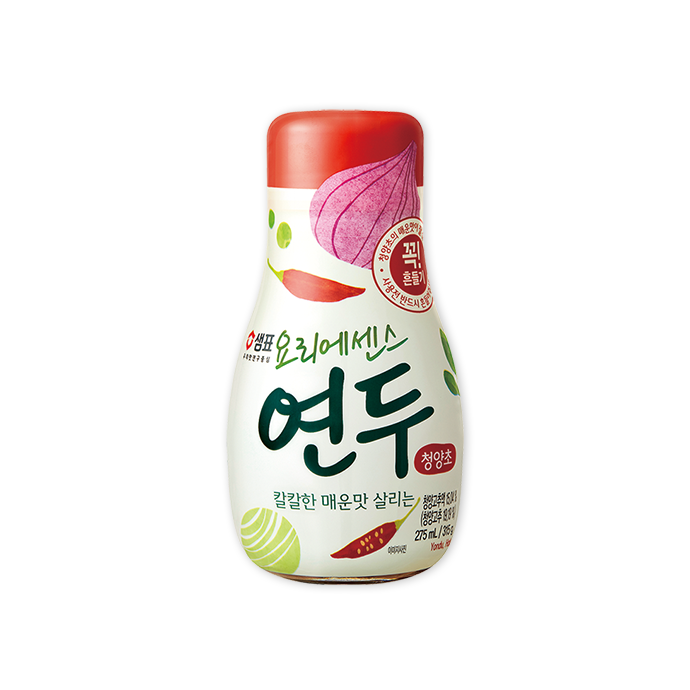 Yondu, Hot
A versatile savory & spicy seasoning that highlights the special flavor of your ingredients
Product Info
Product
Features
1

Made from high quality ingredients including fermented bean broth, vegetable stock, sea salt and water

2

Yondu Hot & Spicy improves the spicy taste of your dishes without the hassle of preparing hot pepper.

3

It's a clear liquid type, so you can enjoy it while keeping the original color of the dish.

4

It helps to adjust the spicy taste of your dish as much as you want according to your taste after you prepared your dish.
Ingredients
Fermented Soybean Essence (Soybean, Water, Salt), Vegetable Extract ( Red Pepper Powder, Salt, Onion Extract, Ginger Extract, Garlic Extract, Leek Extract), Red Pepper Extract (Red Pepper Extract Powder, Onion Extract, Black Pepper , Onion Juice Powder, Yeast Extract), Alcohol , Red Pepper Seasoning (Salt, Red Pepper Extract)
Allergy Info. (FDA REGAULATIONS ONLY)
Soybean
Expiration Date
18 months
Nutrition Info
Amount Per Serving
Calories 0(Calories from Fat 0)
Total Fat
0g (0%), Saturated Fat 0g (0%)/ Trans Fat (0g, 0mg(0%))
Total Carbohydrate
0g (0%) / Dietary Fiber 0g (0%) / Sugars 0g