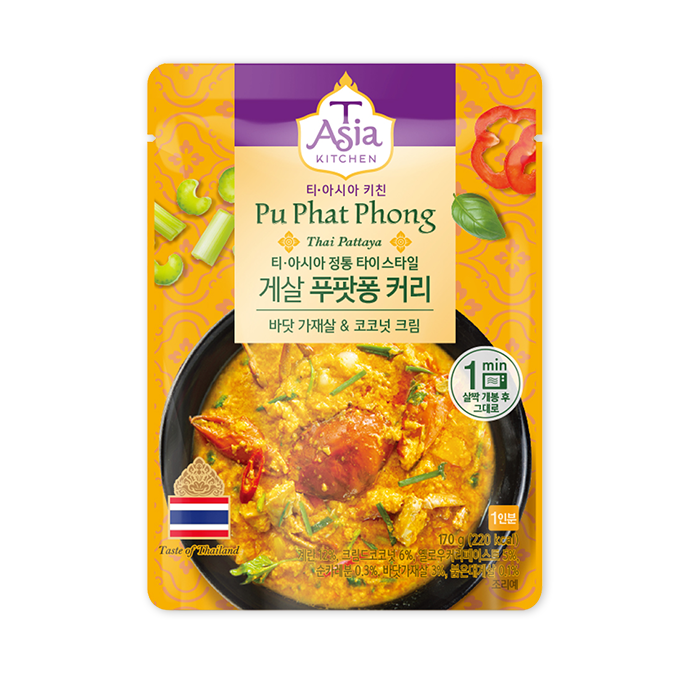 Pu Phat Phong Curry
The perfectly preserved taste of authentic local curry!
Product Info
Product
Features
1

Authentic Indian curry with fresh tomatoes, delicious chicken drumsticks, and savory cream that is sure to arouse the appetite.

2

Made with the recipes of chefs specializing in royal cuisine that truly embody the authentic flavor of local regions.Indian Royal Cuisine Chef (Lalit Mohan) and Thai/Southeast Asian Royal Cuisine Chef (Phisuthisak Burana Singha) have developed their own products to perfect the authentic local flavors of their regions.

3

The harmonization of cream and coconut milk with 15 different kinds of spices makes for an incredibly deep and rich flavor.Various spices have been added to the chef's recipes to reproduce the deep, rich flavor of authentic local curry.

4

Enjoy delicious popular curries from Thailand, the homes of curryconveniently at home.You can easily enjoy authentic Asian curry with rice and naan by simply microwaving it for 1 minute.
Ingredients
water, coconut milk, egg, creamed coconut, celery, onion, paprika, curry paste, lobster meat, Modified Starch Mix(Modified starch, dextrin, sugar, sodium caseinate), sugar, seasoning(Emulsifier, monosodium glutamate, salt, Disodium 5'-Ribonucleotide), garlic, canola oil, gardenia yellow, curry powder, modified starch, salt, crab meat, red pepper, herbal extract powder, xanthan gum
Allergy Info. (FDA REGAULATIONS ONLY)
milk, egg, crab. lobster.
Expiration Date
12 months
Nutrition Info
Amount Per Serving
Calories 220 (Calories from Fat 135)
Total Fat
15g (19%) / Saturated Fat 10g (50%) / Trans Fat 0g
Total Carbohydrate
15g (5%) / Dietary Fiber 0g (0%) / Sugars 6g