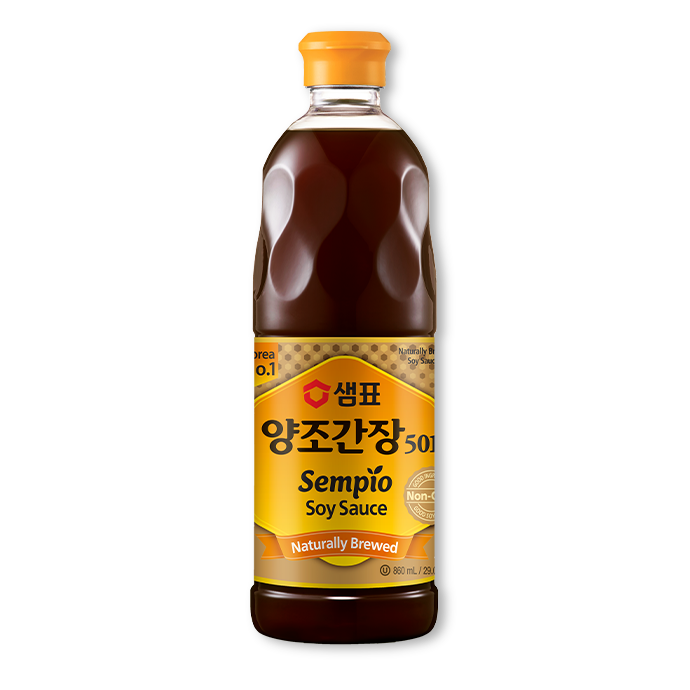 Naturally Brewed Soy Sauce 501
The best-selling naturally brewed soy sauce in Korea with a deep, rich flavor and aroma
Buy Options
Package Size
150ml
500ml
860ml
1.7l
5l
15l
Product Info
Product
Features
1

The best-selling naturally brewed soy sauce in Korea with a deep, rich flavor and aroma made possible by our 70 years of fermentation mastery.

2

A naturally brewed soy sauce that has been slowly and properly fermented for 6 months through a fermentation process involving 5 steps with healthy yeast and lactic acid bacteria giving it a deep soy flavor and clean and unaltered flavor profile.

3

The natural umami-rich flavor of this soy sauce brings out and enhances the flavor of whatever ingredients it's with.

4

Ideal for a variety of dishes such as raw foods (sashimi, raw vegetables, etc.), stews, and stir-fried dishes.
Ingredients
water, defatted soybeans, wheat, salt, high fructose corn syrup, alcohol , yeast extract, licorice extract, sucralose
Allergy Info. (FDA REGAULATIONS ONLY)
wheat, soybeans
Expiration Date
24 months
Certification
SQF

KOSHER
Nutrition Info
Amount Per Serving
Calories 10 (Calories from Fat 0)
Total Fat
0g (0%) / Saturated Fat 0g (0%) / Trans Fat 0g
Total Carbohydrate
1g (0%) / Dietary Fiber 0g (0%) / Sugars 0g