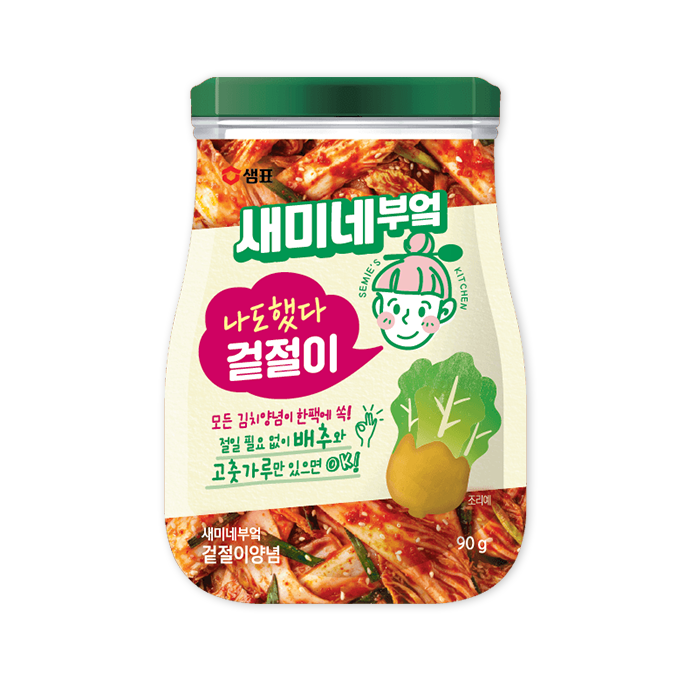 Fresh Kimchi
Make fresh Kimchi in five minutes without salting.
Product Info
Product
Features
1

No need for salting. Kimchi is made by mixing the seasoning with red pepper flakes and adding it to the main ingredient such as cabbage or radish.

2

You can adjust the spiciness to taste. Choose your own red pepper flakes and add as much or as little as you'd like.

3

Our secret kimchi seasoning recipe goes perfectly with the main ingredients. It's delicious and not too salty with our secret sauce made with a perfect blend that matches the characteristics of the main ingredient.

4

It tastes like authentic homemade Korean kimchi. You can enjoy authentic Korean kimchi with no artificial taste.

5

We've put in an easy-to-follow recipe right on the packaging. We've made an ultra-simple video recipe that anyone can easily follow.
Ingredients
chopped onion, fish sauce(shrimp, anchovy, salt, water), sugar, fructose, salt, chopped garlic, pear puree(pear, vitamin C), alcohol, water, seasoning base(fructose, sugar, glucose, citric acid), chopped ginger, dried pollack extract(dried pollack, soybean, wheat), modified starch
Allergy Info. (FDA REGAULATIONS ONLY)
fish sauce(shrimp, anchovy, Pollack), soybean, wheat.
Expiration Date
12 months
Nutrition Info
Amount Per Serving
Calories 110 (Calories from Fat 0)
Total Fat
0g (0%) / Saturated Fat 0g (0%) / Trans Fat 0g
Cholesterol
less than 5mg (0%)
Total Carbohydrate
24g (9%) / Dietary Fiber 0g (0%) / Sugars 20g