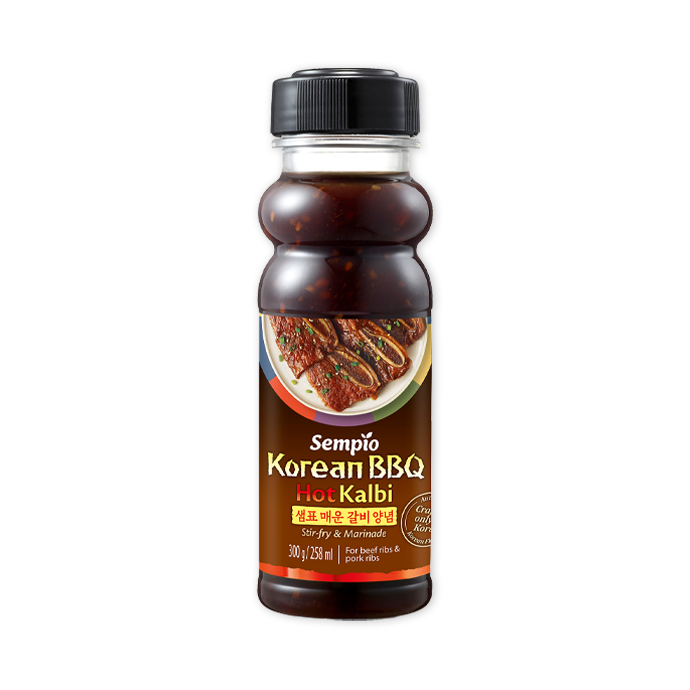 Hot Kalbi Sauce
An original Korean BBQ recipe with a spicy twist!
Product Info
Product
Features
1

A hot version of the original Kalbi Sauce.

2

Spicy and slightly sweet flavors taste splendid on anything you cook. Use it to add an extra kick of hot BBQ flavor.

3

Extremely versatile, it goes great on all barbecue foods, meat, chicken, vegetables, etc.

4

Ready-to-use, quick, and easy to cook with.
Ingredients
water, soy sauce, sugar, high fructose corn syrup, garlic, salt, red pepper, ginger, sesame oil, black pepper, xanthan gum, wheat extract, caramel, sodium benzoate:less than 1/10 of 1% as a preservative, capsicum, disodium inosinate, disodium guanylate.
Allergy Info. (FDA REGAULATIONS ONLY)
contains wheat, soybeans, and sesame.
Expiration Date
18 months
Certification
SQF
Nutrition Info
Amount Per Serving
Calories 125 (Calories from Fat 0)
Total Fat
0.6g (0%) / Saturated Fat 0g (0%) / Trans Fat 0g
Total Carbohydrate
29g (2%) / Dietary Fiber 0g (0%) / Sugars 27g