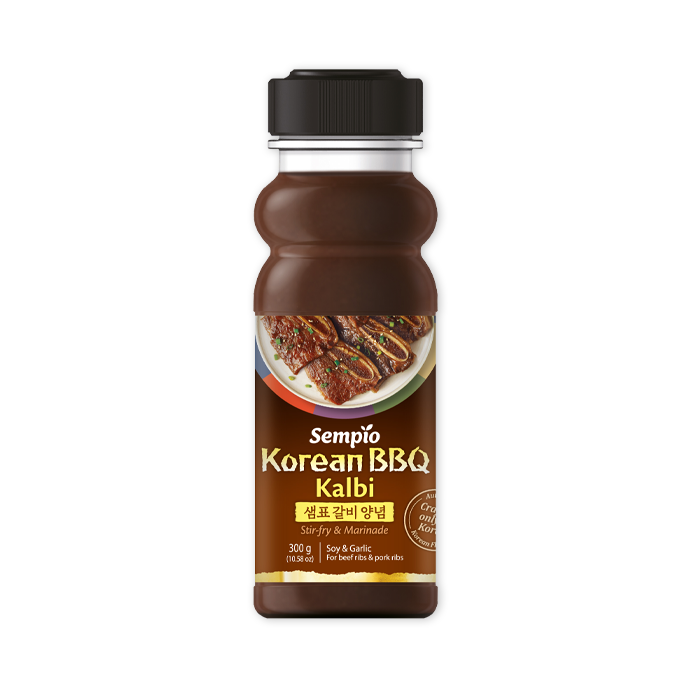 Kalbi Sauce
Quick & easy Korean BBQ sauce with a deep & savory original Korean taste
Buy Options
Package Size
300g
500g
900g
Product Info
Product
Features
1

A delightfully rich & savory Korean BBQ sauce to enjoy real Korean Kalbi with easily from your own kitchen.

2

Uses Sempio soy sauce – Korea's best – as a base ingredient to make this sauce more robust, highlighting deep, umami-rich flavors with added spices and sesame to give this sauce a nutty flavor and the meat a tender texture.

3

Simply stir-fry all of the meat and vegetables together and add sauce for quick and easy Kalbi straight from home.
Ingredients
Water, Naturally brewed soy sauce(Defatted soybean, Wheat, Alcohol), Sugar, High-fructose corn syrup, Garlic, Salt, Ginger, Sesame oil, Black pepper, Sesame, Caramel, Xanthan gum, Sodium benzoate(Less than 1/10 of 1% as a preservative), Disodium guanylate, Disodium inosinate.
Allergy Info. (FDA REGAULATIONS ONLY)
contains wheat, soybeans, and sesame.
Expiration Date
18 months
Certification
SQF
Nutrition Info
Amount Per Serving
Calories 30 (Calories from Fat 0)
Total Fat
0 g (0%) / Saturated Fat 0 g (0%) / Trans Fat 0 g
Total Carbohydrate
7 g (3%) / Dietary Fiber 0 g (0%) / Sugars 5 g (11%)