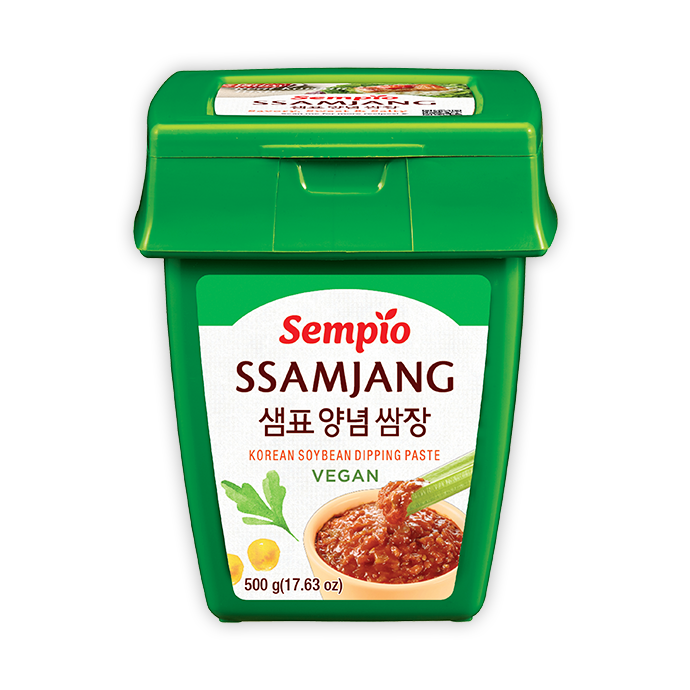 Ssamjang, Korean Soybean Dipping Paste
A blend of conventional ssamjang and red pepper seasoning, makes for a pleasantly spicy flavor. A perfect balance of savory and sweet with a hint of spicy and a creamy texture.
Buy Options
Package Size
170g
250g
500g
1kg
Product Info
Product
Features
1

The perfect blend of conventional soybean paste(Doenjang), red chili paste(Gochujang),sesame, and vegetables creating a masterfully balanced savory condiments to pair with almost any food that could use a mild spicy flavor kick.

2

Can be enjoyed as a dipping sauce for fresh vegetable sticks, grilled meat, or can be used to make a light Korean dish called 'Ssam:' rice and ssamjang wrapped in a leaf of lettuce.
Ingredients
water, wheat flour, corn syrup, soybean, wheat, salt, mixed seasoning paste, minced garlic, distilled alcohol(derived from agricultural products), sugar, spring onion concentrate, roasted sesame, α-wheat flour, hot pepper powder, wheat concentrate, garlic concentrate, cheongyang chili powder, koji-starter.
Allergy Info. (FDA REGAULATIONS ONLY)
wheat, soybeans, and sesame.
Expiration Date
18 months
Certification
SQF
Nutrition Info
Amount Per Serving
Calories 90Calories 70 (Calories from Fat 10)
Total Fat
1g (2%) / Saturated Fat 0g (0%) / Trans Fat 0g
Total Carbohydrate
14g (5%) / Dietary Fiber 2g (8%) / Sugars 8g