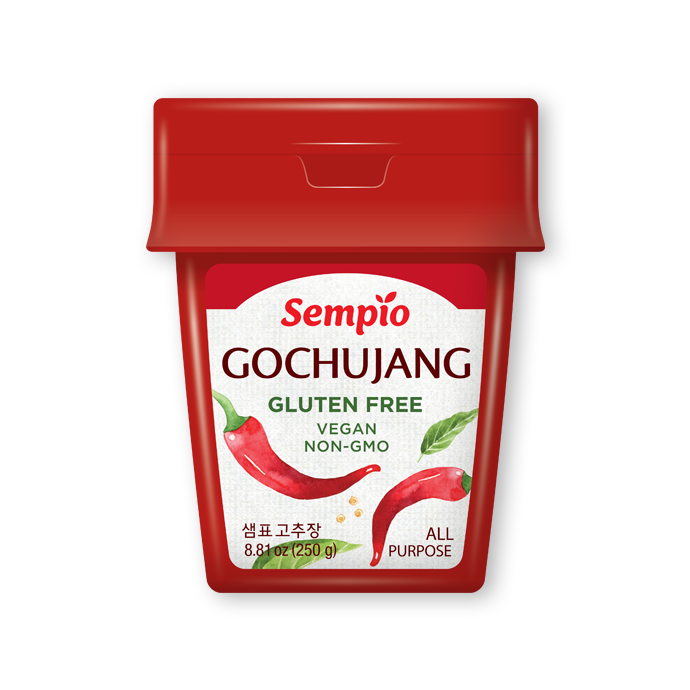 Gochujang, Korean Chili Paste, Gluten-Free
Made from carefully selected sun-dried red chilies, rice, and rice syrup, is a savory, spicy and sweet GLUTEN FREE red chili paste.
Product Info
Product
Features
1

VEGAN / NON-GMO.

2

It is a quick and easy way to add a spicy Korean flavor to your dishes, giving them an exquisitely distinct touch.

3

Great for stir-frying, dipping, marinating and a welcome addition to any food you want to spice up.
Ingredients
Fermented rice paste(rice, water, salt, koji-starter), fermented rice syrup, water, hot pepper powder, alcohol, salt, yeast extract, soybean essence, rice powder, onion powder, carrot powder, concentrated garlic juice.
Allergy Info. (FDA REGAULATIONS ONLY)
soybeans
Expiration Date
18 months
Certification
SQF
Nutrition Info
Amount Per Serving
Calories 60
Total Fat
0g (0%), Saturated Fat 0g (0%) / Trans Fat 0g
Total Carbohydrate
13g (5%) / Dietary Fiber 1g (4%) / Sugars 8g (16%)