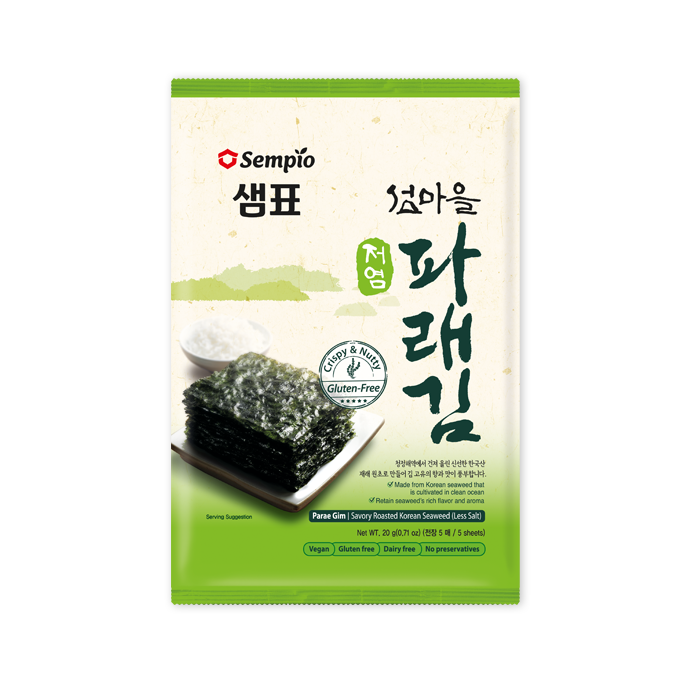 Parae Gim, Savory Roasted Korean Seaweed, Less Salt
Same savory flavor with less salt!
Buy Options
Package Size
5g X 8 Packs
5g X 16 Packs
20g(5 Sheets) X 4 Packs
Product Info
Product
Features
1

Laver (or gim) is an edible seaweed classified as red algae and is generally smooth and delicate in texture and is rich in iodine, iron, and other minerals.

2

Parae gim is known as green laver because it's mixed with another seaweed, Parae. It has an herbal flavor and a smooth texture.

3

Our Parae gim uses100% Korean domestic laver that was cultivated in eco-friendly clean seas and was skillfully toasted with sesame oil at optimal temperatures to give it a great herbal flavor and to lessen the bitter taste of Parae seaweed as well as to give it an extra crunchy texture.

4

It maintains the same savory flavor as the original, but with less salt and thus a less-salty taste.
Ingredients
dried laver, corn oil, sesame oil, salt
Allergy Info. (FDA REGAULATIONS ONLY)
sesame
Expiration Date
12 months
Nutrition Info
Amount Per Serving
Calories 35 (Calories from Fat 27)
Total Fat
3g (5%) / Saturated Fat 0g (0%) / Trans Fat 0g
Total Carbohydrate
1g (0%) / Dietary Fiber 1g (3%) / Sugars 0g