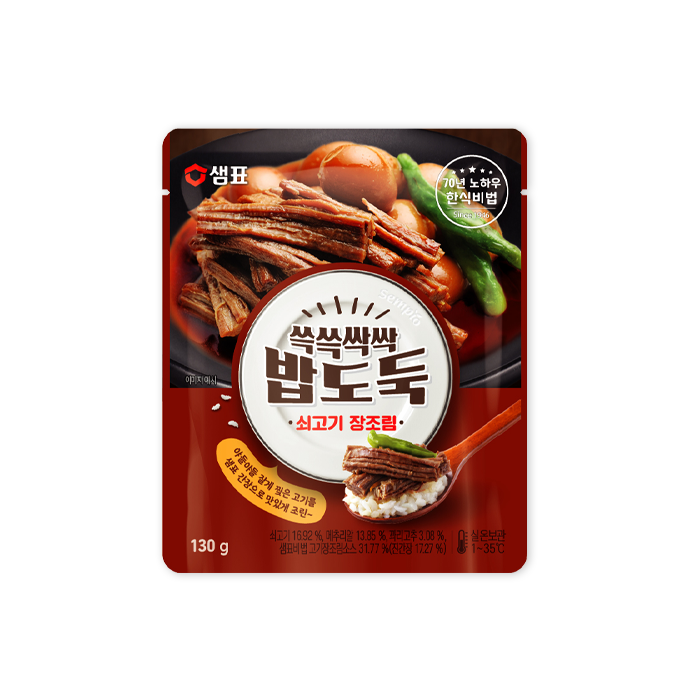 Braised Beef in Soy Sauce (Pouch)
Beef Jangjorim that'll make you finish a bowl of rice in a blink of an eye
Product Info
Product
Features
1

A delicious beef jangjorim made by brazing tender beef in Sempio's secret sauce, perfect from the meat to the sauce.

2

Made of only the best ingredients such as fresh Australian beef round, Korean quail eggs, and shishito peppers.

3

Ideal for 3 to 4 people to share over a meal.
Ingredients
Water, Soy Braising Sauce(Water, Soy sauce, High-fructose corn syrup, Sugar, Vegetable sauce, Seasoned Powder, Beef Extract Seasoning, Vegetable Seasoning, Seasoned paste, Beef extract, Salt), Beef, Quail's egg, Green Chili Pepper.
Allergy Info. (FDA REGAULATIONS ONLY)
Quail's egg, Soybeans, Wheat
Expiration Date
18 months
Nutrition Info
Amount Per Serving
Calories 140
Total Fat
3g (4%), Saturated Fat 1g (5%) / Trans Fat 0g
Total Carbohydrate
15g (5%) / Dietary Fiber 0g (0%) / Sugars 13g