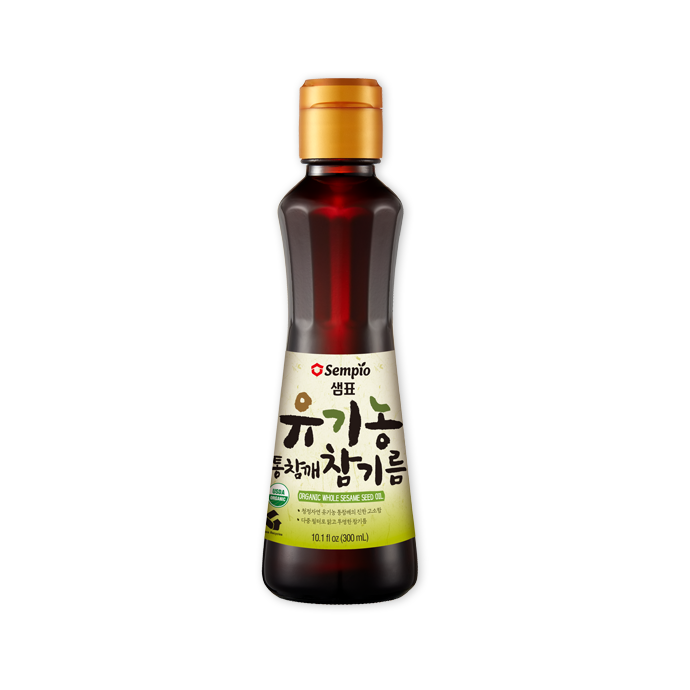 Organic Whole Sesame Seeds Oil
Natural taste and aroma made with optimal roasting without burning
Product Info
Product
Features
1

Enjoy the fresh and nutty flavor of sesame oil made of organic whole sesame seeds.

2

The 'Flavor of Excellence' method (FE) for natural flavor and aroma is used to make the most delicious oils. The sesame seeds used to make these oils have been evenly roasted between 175 and 195 degrees to prevent any burnt or bitter flavors in the oils and accomplish a savory flavor.

3

Widely used in many Korean side dishes, rice dishes, Korean BBQ, and as a stand-alone dipping sauce for a finishing touch on dishes such as grilled meat, mushrooms, or vegetables in sesame oil mixed with salt, making them even more delicious.
Ingredients
whole sesame seeds.
Allergy Info. (FDA REGAULATIONS ONLY)
sesame
Expiration Date
24 months
Certification
유기가공식품
Nutrition Info
Amount Per Serving
Calories 900(Calories from Fat 900)
Total Fat
100 g (153%), Saturated Fat 16g(80%)/ Trans Fat (0g, 0mg(0%))
Total Carbohydrate
0g (0%) / Dietary Fiber 0g (0%) / Sugars 0g