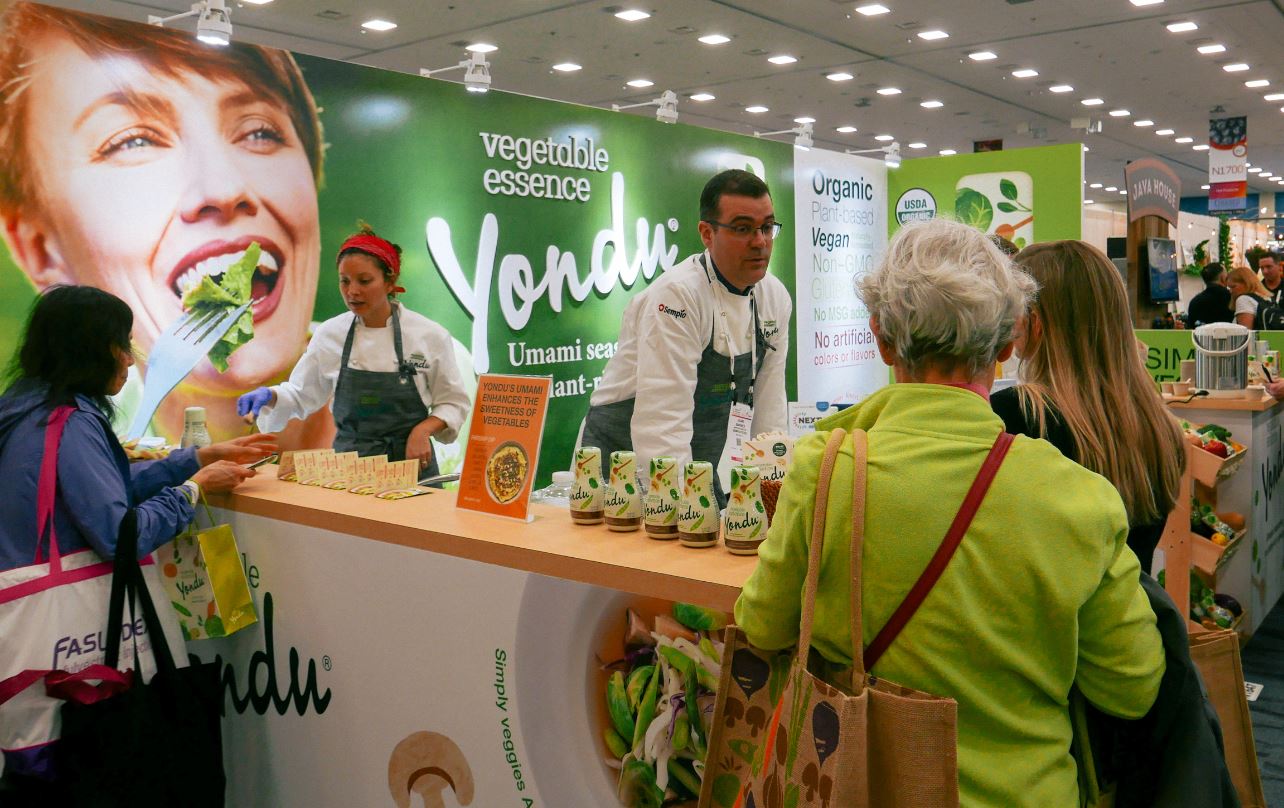 Sempio participated in the Natural Products Expo in Anaheim, California, from July 5th to 9th.
Marking its 39th anniversary this year, the Natural Product Expo is the largest natural and organic product fair in the world. There, a quick glimpse of the latest food trends can be found, as well as a plethora of natural ingredients and organic products. This year, 'vegetables' and 'vegetarian dishes' have emerged as the main topics of the event, reflecting the worldwide vegetarian craze. Sempio participated in the event as a solo booth.

Yondu is a cooking essence sauce created via soy fermentation technology, the core of the Korean fermented taste. It is a global product that makes it easier for people all around the world to create delicious and diverse dishes based on the deep and rich taste of Korean soy sauce. Yondu goes well with nearly all foods but derives its deep and rich flavor from soybean fermentation.
At the fair, Sempio presented several vegetarian dishes such as "Quick Vegetable Soup," a soup with a deep, rich-tasting flavor made only of vegetables and Yondu in just three minutes, and a dipping sauce made with Yondu so that you can dip and eat vegetables like stir-fried radishes and parsnips. Jaume Biarnes, chief chef of Yondu Culinary Studio in New York and the one in charge of promoting of Yondu, is said to have focused on promoting the deep and rich flavor of vegetable dishes by using Yondu without any meat ingredients or additives. Food retailers and food influencers around the world have shown great interest in the healthy and deep taste of our plant-based Yondu. An official of the Good Food Institute, a non-profit organization that promotes healthy, plant-based eating in the U.S., said that it is a pure vegetable product and yet has the rich, deep taste people want, ensuring that they won't miss meat any longer.
Barbara Weller, the editor of Food Tries for Sustainable Eating, also said that Yondu is a mysterious sauce that makes every dish taste richer and deeper and helps people to enjoy a healthy and beautiful diet over the long term.

Last year's food event also drew keen attention from food retailer around the world. In particular, it was recognized for its excellence in terms of providing a delicious and healthy cooking experience while meeting the conditions of the "clean label" (Non-GMO, gluten-free, natural fermentation, and non-artificial additives), making Sempio the first Korean food company to win the "New Hope NEXTY Award."

Yondu is currently sold in 33 stores, including Amazon and local organic shops, and it is planning to communicate with consumers through various cooking classes and seminars at Yondu Culinary Studio that opened in Manhattan last September.