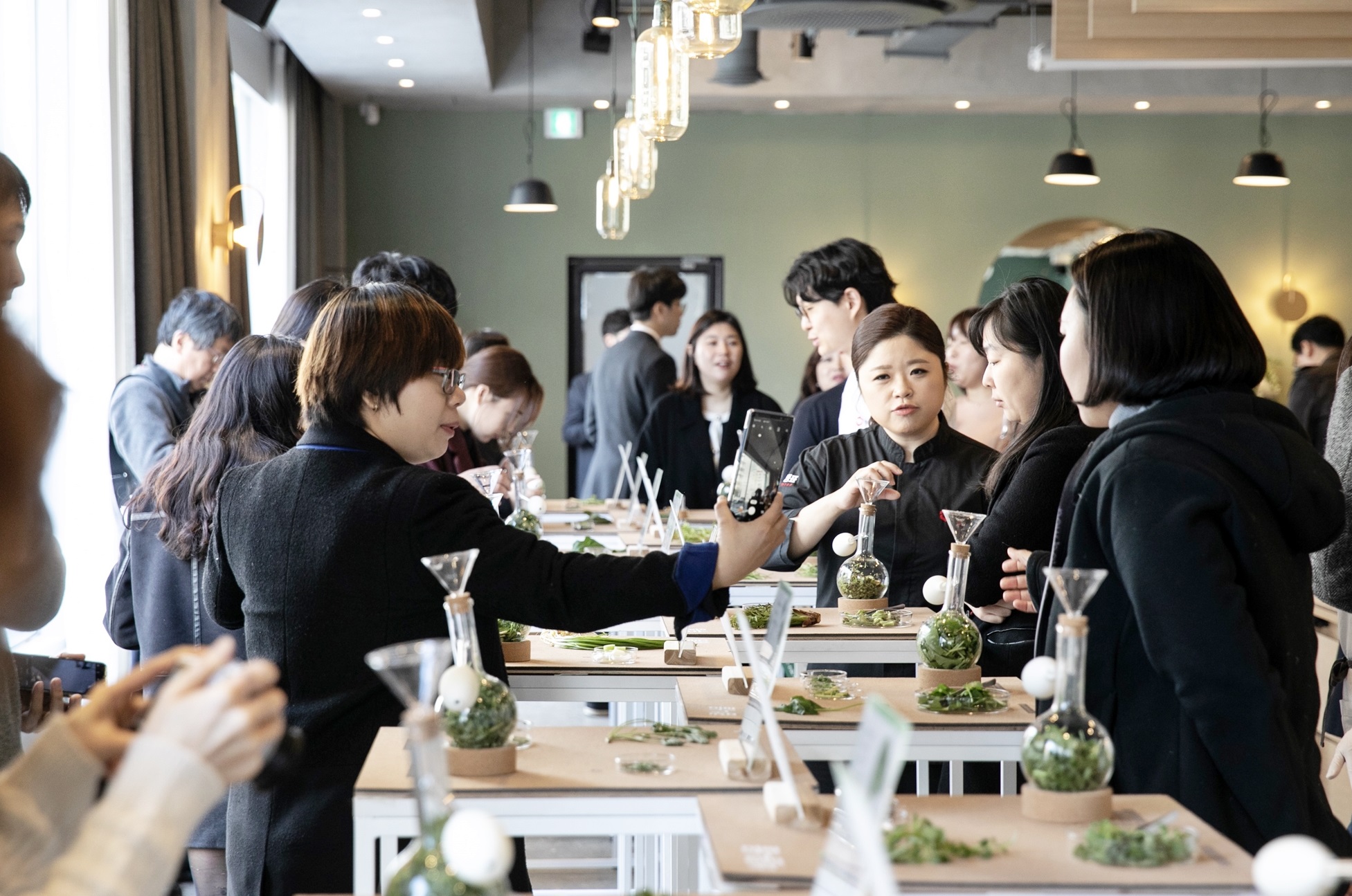 On April 2, Sempio hosted an 'Authentic Korean Taste Workshop' at the Sempio culinary space.
The last event of the Sempio Korean Taste Week – Spring greens event, which began on March 30, was to present the results of Sempio's two-year-long study on spring greens. The announcement revealed the results of 15 spring greens (shepherd's purse, day lily, wild chive, mugwort, etc.) that are now among the 20 most popular spring greens eaten by Koreans.
Spring greens are one of the most representative ingredients in Korean cuisine, but it has been generally thought that cooking spring greens is difficult and good recipes are limited due to a lack of systematic information. The results of the study, which was presented at the Korean Taste Workshop, included information on how to enjoy spring greens deliciously and easily, such as utilizing the flavor features hidden in spring greens and cooking techniques applied with the principles of cooking science, and Korean flavor seasoning formulas.
The highlight of the event was a unique spring green dish. Based on the study's results, gimbap with shepherd's purse was created. The results of the research showed that seafood flavors are amplified by stir-fried shepherd's purse. Other results were chamnamul salsa that maximizes sesame and herbal flavors. Both of these received a great response from participants.
Sempio aims to help many people break the stereotype that spring greens are difficult to cook and to help them enjoy spring greens more easily and in greater quantities, giving them healthier lives. Through the study of Korean taste, we will suggest solutions to address the difficulties of our diet and provide a new direction to go in.
In 2016, Sempio proposed the slogan "Sempio, the center of Korean taste studies," to mark its 70th anniversary. It is an expression of our commitment to continue in and uphold Korea's precious culinary traditions and further develop Korean taste through continuous research and development. To bring this about, Sempio has been studying ways to make Korean food easier to cook, tastier, and healthier by creating an organization called "The Sempio Korean Taste Research Center" with the aim of rediscovering the value of Korean food culture and taste.
Sempio's study of Korean taste is the first attempt in Korea to study the ingredients, sauces, and recipes that make up the Korean taste in a scientific yet cultural way! Through a scientific study on Korean taste, we can lay the foundation for Korean taste to become more greatly diversified and developed.
The results of this study were shared on Sempio homepage, Sempio taste report, and the Korean flavor week workshop. It gives the consumer a variety of ways to experience the Korean flavor and gives chefs and food staff a new perspective on Korean taste and cuisine. Sempio will continue to study Korean flavors and will contribute to the development of eating habits by sharing the results with consumers.