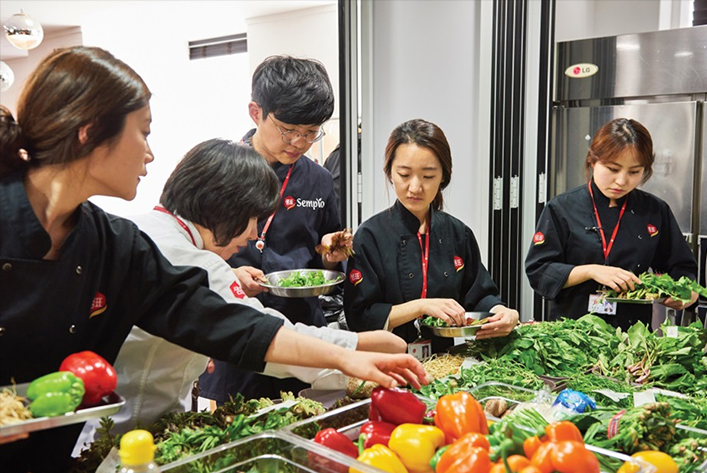 With over 71 years of experience, Sempio Foods Company has always been on the leading edge of Korean culinary culture. Sempio's new Culinary Research Center inaugurated this year will play a pivotal role in continuing this tradition. The goal is simple, research and develop the best food products while maintaining authentic Korean flavors.
Last year, Sempio started working on a project titled 'Korean Authentic Flavor Research'. With the persistent influence of Western food culture on the Korean diet, Sempio believes it is important to preserve Korea's authentic flavors. The Culinary Research Center accomplishes this by studying and experimenting with Korean culinary culture with scientific methods and processes. The goal is to capture, authenticate and preserve Korean flavors for all to enjoy.
At the Culinary Research Center, a diverse group of chefs, scientists and culinary experts work together with common purpose. Research is completed on a wide range of ingredients that are normally associated with Korean foods. The ingredients are analyzed for composition, flavor, consistency and many other variables in an effort to deconstruct and understand what authentic Korean flavor is. By better understanding authentic Korean flavor, preferred tastes and Korean culinary culture, Sempio will be able to offer products that best capture authentic Korean flavors.
A strength of the Culinary Research Center is its systematic, segmented research process. The process starts with an analysis of features considered integral to Korean culinary culture. For each feature, a representative ingredient is chosen and analyzed extensively, capturing as many attributes as possible. This may include the breed, structure, taste of parts, cooking methods and historical/contemporary recipes. Based on this dataset and understanding, new dishes that utilize the best representative ingredients are suggested for further study.
The research findings are then shared with Authentic Korean Flavor Mentors, who are expert in cooking, culinary culture and food science. The Authentic Korean Flavor Mentors run their own experiments and deliver their results. One recent result, the 11 Vegetable Report, can be found on the Sempio website. The report details seasonal vegetables used in Korean cuisine such as spring greens and summer vegatables.
Through meticulous research, Sempio hopes to capture the essence of what is considered authentic Korean flavor and continue to enhance Korean culinary culture for people to enjoy around the world.
In an interview with the Culinary Research Center's top Chef, Ms. Choi said, "Sempio's Culinary Research Center's primary goal is to establish authentic Korean flavors and increase the value of Korean cuisine on the world stage. We believe our research will provide healthy authentic Korean flavors all people can enjoy."
Sempio's Culinary Research Center is grateful to everyone involved and its continued support.