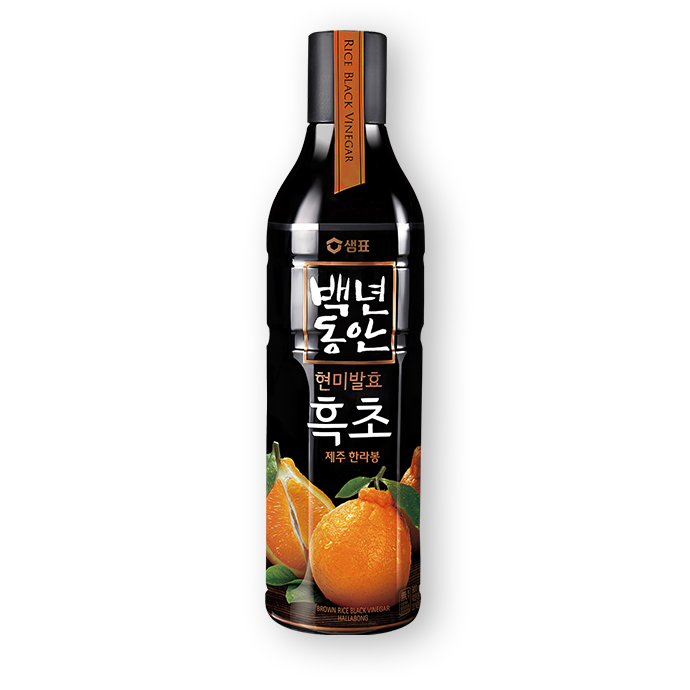 Brown Rice Black Vinegar, Mandarin Orange
A concentrated drink mix made from thoroughly-fermented brown rice and nutritious, hallabong orange juice.
Product Info
Product
Features
1

Hallabong(mandarin) orange juice, rich in vitamin C and antioxidants, is added to black vinegar, which is made by a three-step fermentation process using brown rice.

2

Containing absolutely no sugar or high fructose corn syrup, it is a wholesome concentrated drink mix.
Ingredients
black rice vinegar hallabong(black rice vinegar, water, hallabong concentrate, orange concentrate, grapefruit concentrate, tangerine concentrate, lime concentrate, apple concentrate, DL-malic acid, citric acid, gellan gum, apple juice(apple concentrate, hallabong-lime flavor, rebaudioside(steviol glycoside)), fructooligosaccharide, water
Expiration Date
18 months
Nutrition Info
Amount Per Serving
Calories 24 (Calories from Fat 0)
Total Fat
0g (0%) / Saturated Fat 0g (0%) / Trans Fat 0g
Total Carbohydrate
6g (2%) / Dietary Fiber 0g (0%) / Sugars 6g