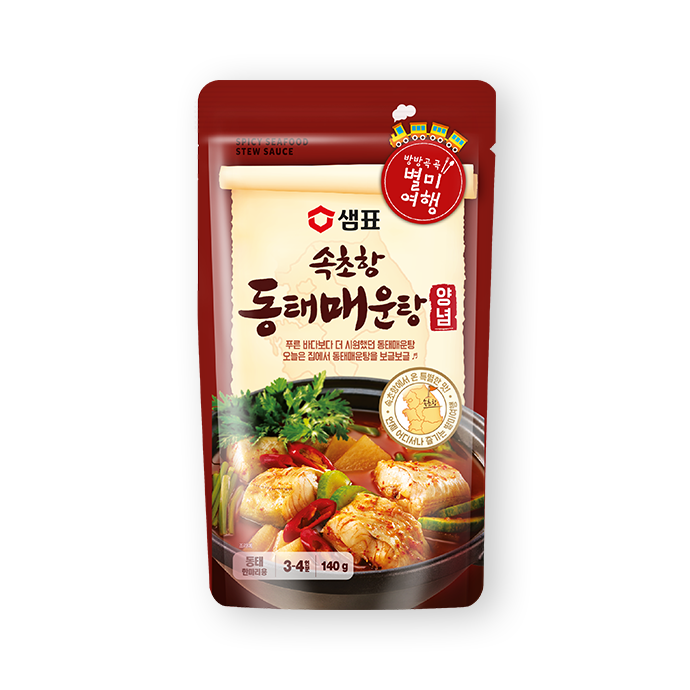 Sokcho Spicy Seafood Stew Sacue
Makes traditionally complex fish stew easy and delicious!
Product Info
Product
Features
1

Pleasantly spicy chilli powder and stocks made from assorted seafood and vegetables make this seasoning a great addition to hearty, nourishing soups and stews.

2

You will only need fish and vegetables to make an easy and delectable fish stew, which can otherwise be very tricky to make.

3

Cook with in-season fish for an even better taste!
Ingredients
water, garlic, red pepper seasoning, red pepper powder, salt, ginger, kelp & radish extract, soy peptide concentrate, dreid pollack extract, wheat extract, yeast extract, black pepper powder, xanthan gum, onion extract.
Allergy Info. (FDA REGAULATIONS ONLY)
contains milk, soybeans and wheat.
Expiration Date
18 months
Nutrition Info
Amount Per Serving
Calories 15 (Calories from Fat 0)
Total Fat
0g (0%) / Saturated Fat 0g (0%) / Trans Fat 0g
Total Carbohydrate
2g (1%) / Dietary Fiber 0g (0%) / Sugars 1g