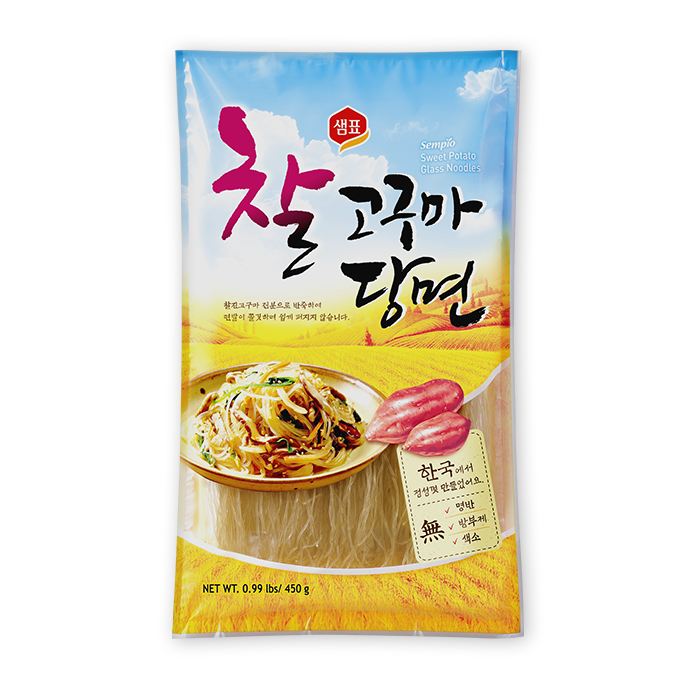 Sweet Potato Noodles
Made from 100% sweet potato starch, this springy noodle does not get soggy quickly.
Buy Options
Package Size
100 g
450 g
900 g
Product Info
Product
Features
1

Sweet potato noodles are made entirely from sweet potato and are semi-translucent when dry. When cooked, they become translucently glass-like and are for the most part flavorless.

2

Sempio sweet potato noodles are dried for 24 hours via hot air convection drying, a process very similar to a natural drying environment, allowing the noodles to dry evenly. They do not easily get mushy, soggy, or sticky and maintain their springy texture longer, and don't stick to each other when cooked.

3

Perfect for making Japchae or dumplings, or as a complement to stews, soups, or braised chicken.

4

No potash alum, No artificial colors, No preservatives. Gluten-free.
Ingredients
sweet potato starch, water
Expiration Date
24 months
Certification
HACCP
Nutrition Info
Amount Per Serving
Calories 72 (Calories from Fat 0)
Total Fat
0g (0%) / Saturated Fat 0g (0%) / Trans Fat 0g
Total Carbohydrate
18g (6%) / Dietary Fiber 0g (0%) / Sugars 0g