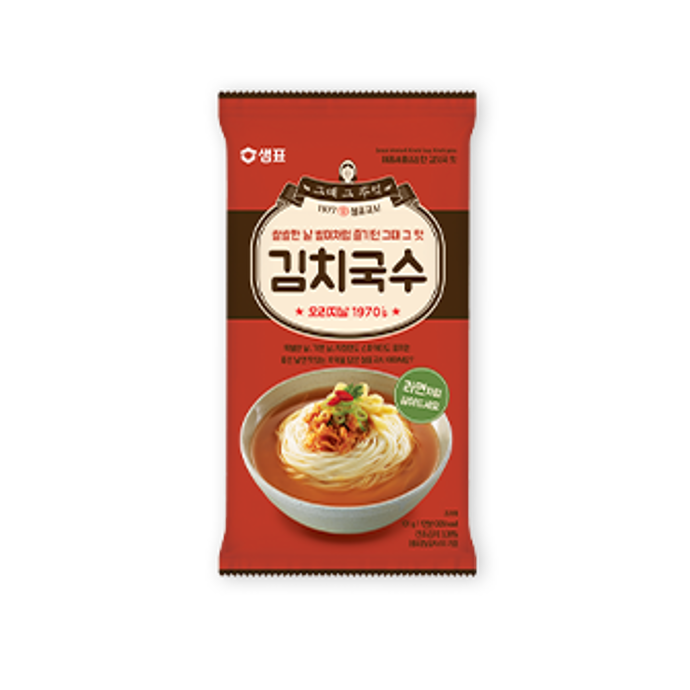 Vermicelli Kimchi Soup, Kimchi-guksu
Sempio Vermicelli Kimchi Soup, also known as 'Kimchi-guksu', features ultra-chewy noodles with a spicy & sour kimchi soup seasoned with anchovy sauce that adds an extra refreshing flavor.
Product Info
Product
Features
1

Enjoy the refreshing spicy & sour flavor of kimchi soup seasoned with anchovy sauce, garlic, and onions!

2

The combination of kimchi soup with anchovy sauce, garlic, and spring onions add a remarkably refreshing flavor and spicy hints to the broth.

3

The noodles that we use are ultra-chewy and don't easily get soggy, because our vacuum-aging technique takes out all the air in the dough. Simply add the noodles directly into the broth, like ramen, without having to boil or rinse them separately.

4

Easy to enjoy anytime, anywhere. The noodle and soup mix are both included so you can enjoy the nostalgic flavor of Korean kimchi noodle soup at anytime, anywhere.
Ingredients
noodles (wheat flour, salt), kimchi soup powder (salt, kimchi soup powder, red pepper powder, monosodium glutamate, sugar, seasoning powder, soy sauce powder, dried kimchi flake, garlic powder, onion powder, red pepper powder, dried green onion, dried carrot, black pepper powder capsicum powder, disodium 5'-ribonucleotide, citric acid, paprika color powder, caramel powder)
Allergy Info. (FDA REGAULATIONS ONLY)
wheat, soybeans
Expiration Date
18 months
Nutrition Info
Serving Size
1 pack (3.56oz / 101g)
Amount Per Serving
Calories 325
Total Fat
1.8g (2%) / Saturated Fat 0g / Trans Fat 0g
Total Carbohydrate
67g (24%) / Dietary Fiber 0g (0%) / Sugars 5g