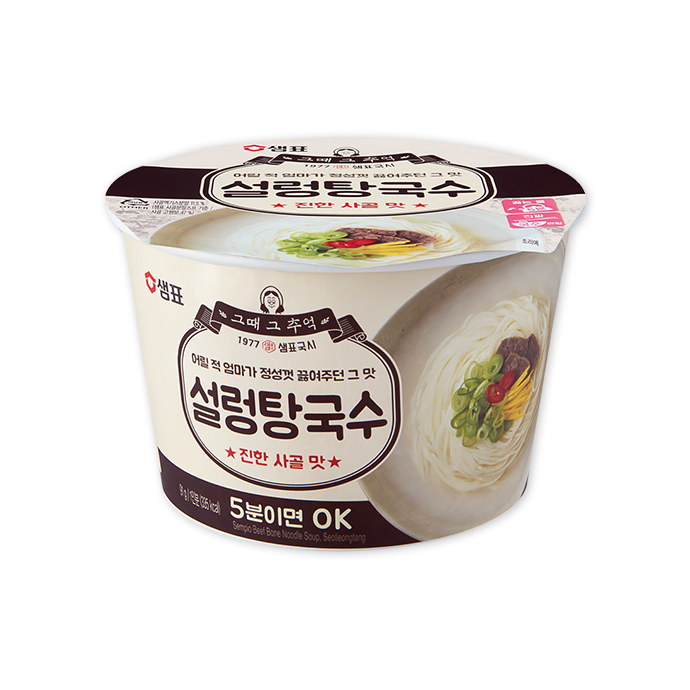 Beef Bone Noodle Soup, Seolleongtang-guksu
Quickly and easily enjoy classic Korean noodles straight from your home.

Product Info
Product
Features
1

This soup is made from beef bone stock, giving this soup a uniquely rich flavor.

2

These chewy and springy noodles are specially made with our unique dough.

3

Quick and easy noodles that are ready in just minutes!
Ingredients
* noodles : wheat flour, wheat starch, tapioca starch, salt. * spices powder : beef seasoning powder, leg bone extract powder, salt, beef bone extract powder, vegetable cream, monosodium glutamate, glucose, onion powder, garlic powder, dried green onion, fried egg flake, dried laver, black pepper powder, glycine, silicon dioxide, dried carrot, disodium 5'-ribonucleotide, disodium succinate.
Allergy Info. (FDA REGAULATIONS ONLY)
wheat,egg
Expiration Date
18 months
Nutrition Info
Amount Per Serving
Calories 335 (Calories from Fat 21)
Total Fat
2.3g (4%), Saturated Fat 1.2g (8%) / Trans Fat 0g
Total Carbohydrate
71g (22%) / Dietary Fiber 0g (0%) / Sugars 5g (5%)