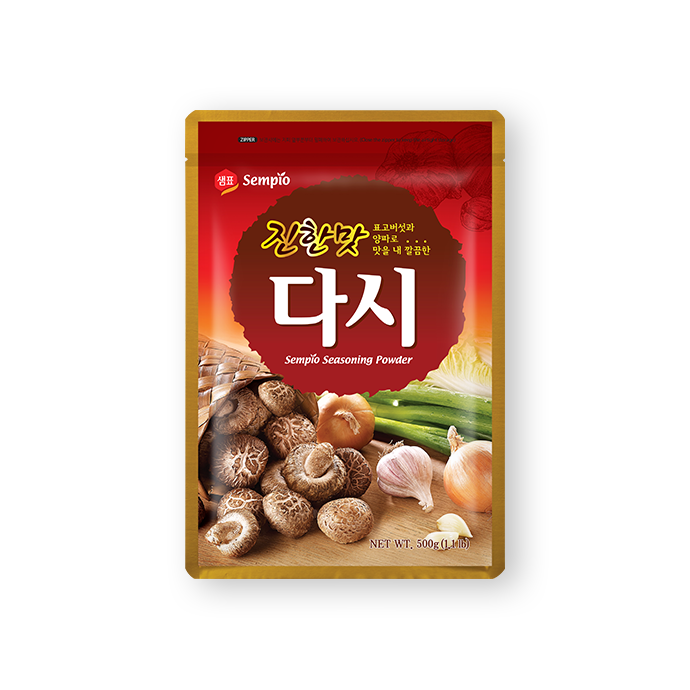 Seasoning Powder
A versatile seasoning, great for soups, stews, and noodles.
Product Info
Product
Features
1

Made of vegetable mix, tuna powder, and other savory seasonings.

2

It is great for soups, stews, and noodles. Contains no preservatives or artificial colorings.
Ingredients
salt, monosodium glutamate, sugar, cornstarch, soy sauce powder, flavor enhancer(soy sauce, hydrolyzed corn gluten, tuna extract, caramel, savory flavor, flucose, garlic oil, onion oil, monoglyceride, sugar ester), vegetable creamer, tricalcium phosphate, garlic powder, onion powder, palm oil, tuna powder, black pepper powder, shiitake extract powder, disodium guanylate, disodium inosinate, disodium succinate
Allergy Info.
soybeans, fish
Expiration Date
24 months
Nutrition Info
Amount Per Serving
Calories 5 (Calories from Fat 0)
Total Fat
0g (0%) / Saturated Fat 0g (0%) / Trans Fat 0g
Total Carbohydrate
1g (0%) / Dietary Fiber 0g (0%) / Sugars 1g