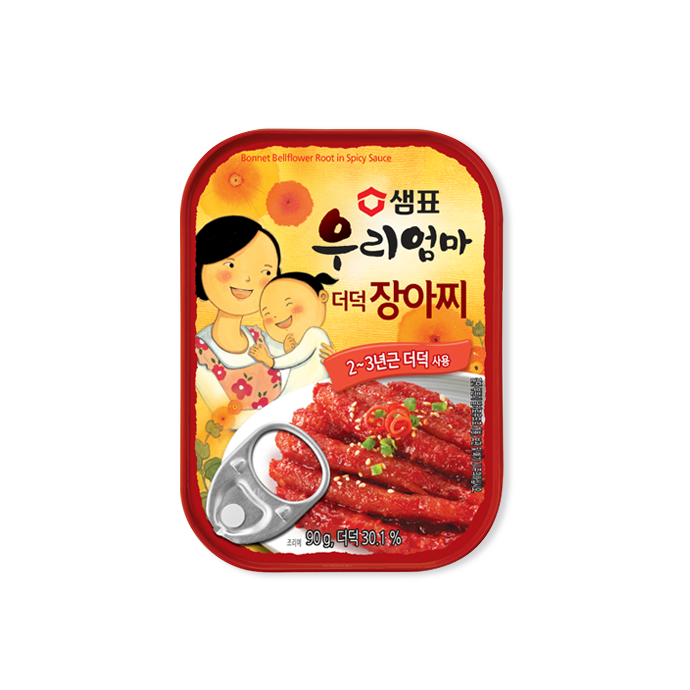 Bonnet Bellflower Root in Spicy Sauce
The fresh and crunchy texture of bonnet bellflower root in spicy sauce works up anyone's appetite.
Product Info
Product
Features
1

With 40 years of know-how and Sempio's secret recipe that's been perfected since 1976, we have made a delicious pickled bonnet bellflower root in spicy sauce. Our pickled bonnet bellflower root in our spicy sauce has an excellent crispy texture and is made with a savory Gochujang based sauce that matches perfectly with bonnet bellflower root. It's not too spicy and slightly sweet with the fresh aroma of bonnet bellflower root making it the perfect companion for rice.

2

Only carefully selected raw ingredients and condiments are used to make our spicy pickled bonnet bellflower root with care–just like mom would make them.

3

Our One-touch packaging makes it easy to store and use, and it's easy to use as well as a side dishes at home and or on the go. Its portability makes it convenient to use outdoors for camping or picnics.
Ingredients
salted bonnet bellflower root, water, polyglycitol syrup, hot pepper paste, sugar, garlic, hot pepper powder, vegetable seasoning, gluconic acid, salt, roasted sesame, modified starch,oleoresin paprika
Allergy Info. (FDA REGAULATIONS ONLY)
sesame,wheat and soybeans
Expiration Date
36 months months
Certification
HACCP
Nutrition Info
Amount Per Serving
Calories 120 (Calories from Fat 0)
Total Fat
0g (0%) / Saturated Fat 0g (0%) / Trans Fat 0g
Total Carbohydrate
10g (3%) / Dietary Fiber 0g (0%) / Sugars 9g