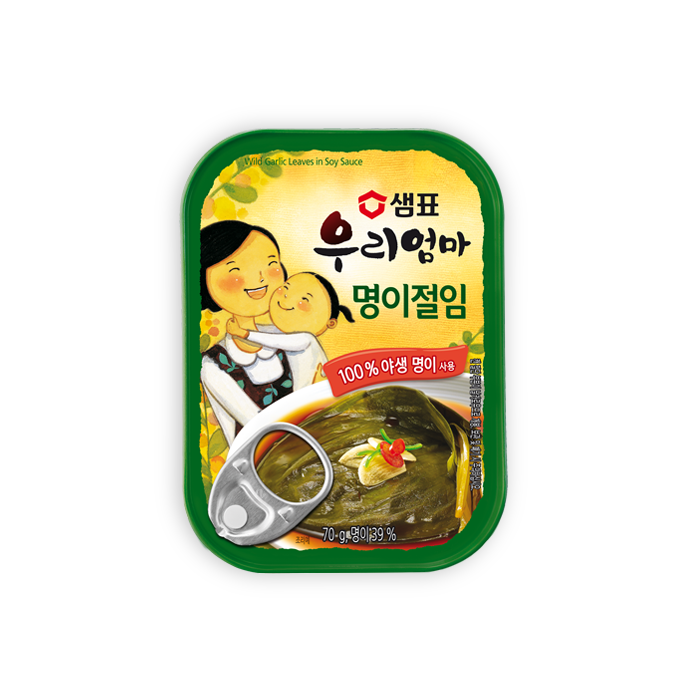 Pickled Wild Garlic Leaves in Soy Sauce
A pickled wild garlic leaves with are thea perfectdeliciously sweet & sour addition to your meat.
Product Info
Product
Features
1

With 40 years of know-how and Sempio's secret recipe that's been perfected since 1976, Sempio has created the perfect pickled wild garlic leaves in soy sauce. The pickled leaves themselves have an excellent texture and are made with our savory soy sauce seasoning that goes so well with wild garlic leaves.

2

The leaves are lightly pickled to prevent them from being overly salty making them a perfect accompaniment for meats.

3

Only carefully selected raw ingredients and condiments are used to make our soy pickled wild garlic leaves with care–just like mom would make them.

4

Our One-touch packaging makes it easy to store and use , and it's easy to use as well as a side dishes at home and or on the go. Its portability makes it convenient to use outdoors for camping or picnics.
Ingredients
pickled wild garlic leaves, water, soy sauce, cider vinegar, sugar, black vinegar, salt, hydrolyzed wheat gluten, yeast extract.
Allergy Info. (FDA REGAULATIONS ONLY)
contains wheat and soybeans.
Expiration Date
36 months
Certification
HACCP
Nutrition Info
Amount Per Serving
Calories 40 (Calories from Fat 4)
Total Fat
0.5g (1%) / Saturated Fat 0g (0%) / Trans Fat 0g
Total Carbohydrate
7g (2%) / Dietary Fiber 0g (0%) / Sugars 7g