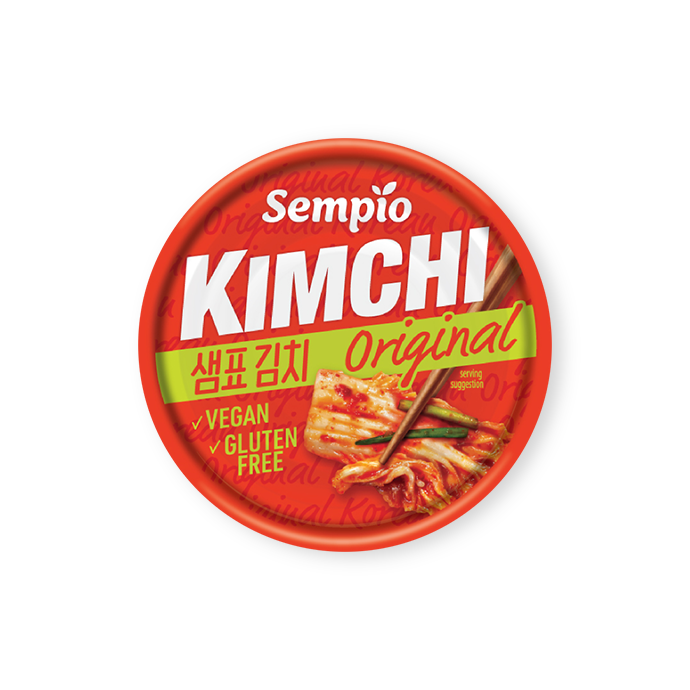 Kimchi Original (Can)
Crunchy and flavorful kimchi ready to be enjoyed anywhere, anytime!
Product Info
Product
Features
1

Authentic Korean napa cabbage kimchi, perfect for every occasion.

2

Sliced in bite-size pieces in one-touch canned packaging, perfect for kimchi beginners and convenient to store and enjoy at home or take with you on the go.

3

Enjoy as a side dish to serve with steak, wings, rice or noodles, a topping on pizza, hot dogs or burgers, a cooking ingredient when making pasta, mac & cheese, tacos or fried rice and more.

4

Vegan, Gluten-free, No added preservatives, No added artificial colors or flavors.
Ingredients
napa cabbage, water, red pepper powder, sugar, salt, garlic, onion, soybean seasoning sauce (contains: soybeans, salt, onion, radish), leek, ginger
Allergy Info. (FDA REGAULATIONS ONLY)
CONTAINS: SOYBEANS.
Expiration Date
36 months
Nutrition Info
Amount Per Serving
Calories 10 (Calories from Fat 0)
Total Fat
0g (0%) / Saturated Fat 0g (0%) / Trans Fat 0g
Total Carbohydrate
2g (1%) / Dietary Fiber 0g (1%) / Sugars less than 1g