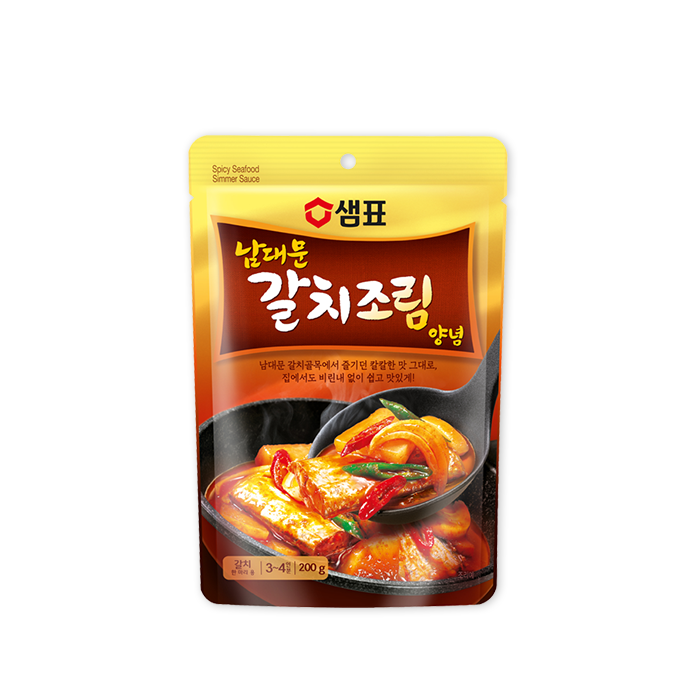 Namdaemun Spicy Seafood Simmer Sauce
Remove unwanted fish odors, while bringing out the genuine flavors of the fish, with this pleasantly spicy seasoning.
Product Info
Product
Features
1

The pleasantly spicy seasoning removes unwanted fish smells while also bringing out the genuine flavors of the cutlass fish.

2

All you need to prepare is a cutlass fish and vegetables to make an easy and delectable dish of braised cutlass fish.
Ingredients
water, soy sauce, sugar, fermented wheat paste, garlic, onion, red pepper powder, wheat protein extract powder, spirits, red pepper extract, onion extract, ginger, disodium 5-ribonucleotide, balck pepper, oleoresin paprika.
Allergy Info. (FDA REGAULATIONS ONLY)
contains soybeans and wheat.
Expiration Date
18 months
Certification
SQF
Nutrition Info
Amount Per Serving
Calories 30 (Calories from Fat 0)
Total Fat
0g (0%) / Saturated Fat 0g (0%) / Trans Fat 0g
Total Carbohydrate
6g (2%) / Dietary Fiber 0g (0%) / Sugars 3g